Every day I thank Bianca for inspiring me to help create Bianca's Furry Friends Feline Adoption Center and to expand my fostering work at North Shore Animal League America, where I've had a chance to meet so many loveable dogs. I'm always thrilled when my IG posts help some of them find great forever homes. So in the hope that something wonderful can happen for the five deserving dogs you're about to meet, here they are! (I haven't met these cuties, but my colleagues at NSALA have written charming bios so you can get to know them.)
Before arriving at NSALA a year ago, Arnie (G25619) lived in sad conditions in Georgia in a backyard breeding situation. UGH! At NSALA, Arnie is learning that people can be kind and caring. Now Arnie is looking for an experienced adopter with older children in a private home in a quiet area with a fully fenced-in backyard. Despite being small, Arnie would not do well in an apartment setting. Once he gets to know you, Arnie is a snuggle muffin. He enjoys walking on a leash, playing fetch, and being scratched on his hind end! With patience, routine, and training to build his confidence, Arnie will become a wonderful companion. Watch his special video here.
October is also National Pit Bull Awareness Month. These loyal, sweet-natured dogs have been stigmatized because of terrible owners. But this breed has been a family dog for decades and deserves respect and love.
Alice (G25956), for example, is a playful Pittie mix looking for a home of her own now that her litter of pups has left the "nest." Alice is house-trained and is good on a leash but would benefit from the guidance of an experienced adopter. Due to her size, apartment life is not for this girl. She needs to be the only pet in a suburban home with a fenced-in yard, with children over 16 years old who can keep up with her energy. We recommend a meet and greet for the entire family to ensure a perfect match. To see Alice in action, visit her adoption profile page.
Buddy (V33791), another Pittie mix, is a shy dog with a lot of love to give. Adopted as a pup, Buddy lived a happy life for four years until his owners were forced to return him when they could longer care for him. The transition has been hard on Buddy as he tries to acclimate to his new surroundings. The ideal future for Buddy would be in an adults-only home with experienced adopters who can continue his training and confidence-boosting exercises. Buddy needs time and will open up slowly, but when he does you'll have a loyal Buddy for life! Get to know Buddy today!
One thing I cannot bear to think about is senior pets who had loving homes and then suddenly find themselves in shelters. No matter how amazing those shelters are — and NSALA is truly amazing — the animals still feel confused and sad. This just breaks my heart.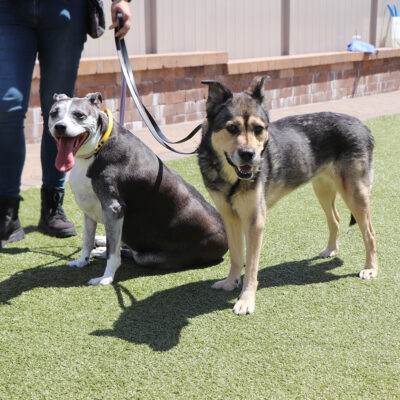 A sweet example is Roxi (T83110) and Gemma (V27080) and who are looking for a new life as a double adoption. Nine-year-old Roxi, a Terrier mix, and 10-year-old Gemma, a German Shepherd mix, are bonded "sisters" who have spent their whole lives together. They've been through thick and thin, including the recent loss of their owner. Transitioning to life in the shelter is never easy, but these two have always had each other to lean on, which has helped them learn to trust their new friends. Gradually, these sweet seniors have begun to show their playful side, and while they won't be doing many adventure walks they do enjoy a stroll together with their favorite humans. These golden girls are looking for a home they can retire to together and make new friends with a sweet family. Take a look at their video on their adoption profile.