Want a say in who becomes the Democrat or Republican nominee for Oregon governor? Tuesday is the deadline to register with a major party.
Over 40% of registered voters are registered as "Non-Affiliated" rather than belonging to a formal political party. And in Oregon, only registered party members can participate in a political party's primary election. In other words, there will be more registered voters who don't get to vote in May than there will be voters who receive a ballot for either of the two major parties.
Why are so many people registered without a party affiliation? It's largely because of Oregon's 2016 Motor Voter law, which automatically registers any citizen to vote when they apply for, renew, or replace an Oregon driver's license, ID card, or permit. DMV lists those voters as non-affiliated. In order to join a party, they have to submit a card that the DMV provides. Most decline to do so, meaning they won't receive May primary ballots that include governor, congress, or the legislature.
They will receive ballots that include non-partisan races like County Commissioner, Labor Commissioner, and judicial races.
Some states send voters two ballots and let them choose one. Oregon does the next best thing – they let voters change parties quickly, easily, and at no charge. If you want to vote in the May 17 Democratic Party or Republican Party primary election, you need to be registered for that political party on or before the deadline at 11:59 p.m. tomorrow, the 26th. You can change back to unaffiliated the next day!
Visit oregonvotes.gov/myvote to update your registration if you'd like to take part in this important primary election!
Last week I visited one of our elementary/middle schools to volunteer for School Vision Screening. Working in partnership with local Lions Clubs, school nurses and school districts, SVS partners with local health professionals and community organizations to conduct screening events statewide in Oregon.
With the support of the Lions Clubs, we used the innovative SPOT device to screen students. With this handheld device, we can detect eight different vision issues in a matter of seconds. There is no need for an eye chart, which means the process is more inclusive. It reaches children who can't read yet, children who are nonverbal, and children who don't speak English as a first language. And importantly, the SPOT evaluates a student's eyes from several feet away so it is no-touch and actually kind of fun. The kids just look at colored lights.
This is a really remarkable program. Classes line up and are in and out in about ten minutes. Five volunteers checked the entire school in under two hours! Each student had a random ID number which we entered into the SPOT. If a problem was noted, only the school nurse would know which student needs help.
Vision challenges in young students are often misdiagnosed as learning problems. I'm grateful to our local Lions for this important program and was pleased to participate once again.

Kitten season is upon us!
What exactly is kitten season? Well, as winter draws to a close and the weather begins to warm, many unaltered female cats are in heat. Sixty days later they begin giving birth to litters of kittens.​
If you have cats as Susan and I do, I urge you to have them "fixed". Rural communities often have to deal with feral or homeless cats. A look at this chart demonstrates how quickly a population can get out of control.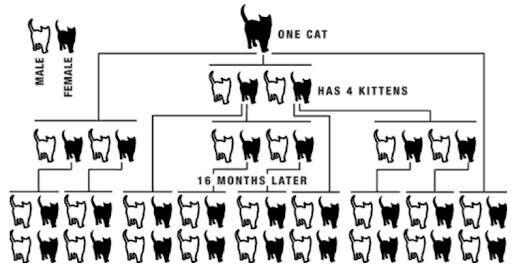 The easiest and most effective method of controlling cat populations is to TNVR – trap, neuter/spay, vaccinate, and return to the colony. Killing the cats or moving them to another location doesn't solve the problem, because when a void occurs, other cats will move in and occupy the same territory. Ensuring they don't reproduce is the only proven method that returns a neighborhood to peace and tranquility.
If you see kittens outside, here are some tips for what to do:
Not all kittens need help. The best place for kittens is with their mother, so before you scoop up kittens you find outdoors, it is important to determine if they're truly orphans or if mom is hiding or hunting nearby.
Kittens under four weeks old cannot eat on their own and they also need to be manually stimulated to urinate and defecate. If mom is nearby, let her be the one to care for them until they are eight weeks old. Mom is their best chance of survival.
Mom might be scared to come back if you're watching her nest. Try leaving a ring of flour around the kittens and checking back after a few hours to see if you can see mom's footprints.
Once they're old enough, humanely catch the family for spay/neuter surgery.
An unaltered female cat can become pregnant at 4 months of age so spay your kitten!
Spaying and neutering also reduces cat conflicts and helps to protect cats from diseases such as cancer of the reproductive systems.
Check with your local shelter, animal wellness originations or a local veterinarian. Many offer free or subsidized spay/neuter services. They may also have live animal traps you can borrow.
I have remarked before that too often when I hear of the urban/rural divide, what folks really mean is the I-5 Corridor and Eastern Oregon. Somehow the unique needs and challenges at the Coast and Western Oregon get left out of the discussion!
On a brisk and drizzly Tuesday last week, about 30 representatives, senators, and legislative staff joined farmers, fisherman, and foresters to tour the Working Lands of Tillamook County. I was pleased to invite colleagues from urban, valley, and eastern Oregon for a closer look at the Coast.
We visited hatcheries, forestlands, and a working dairy. And yes, I think programs like this help bridge that troubling divide. Later this summer, a similar tour of Lincoln County is planned.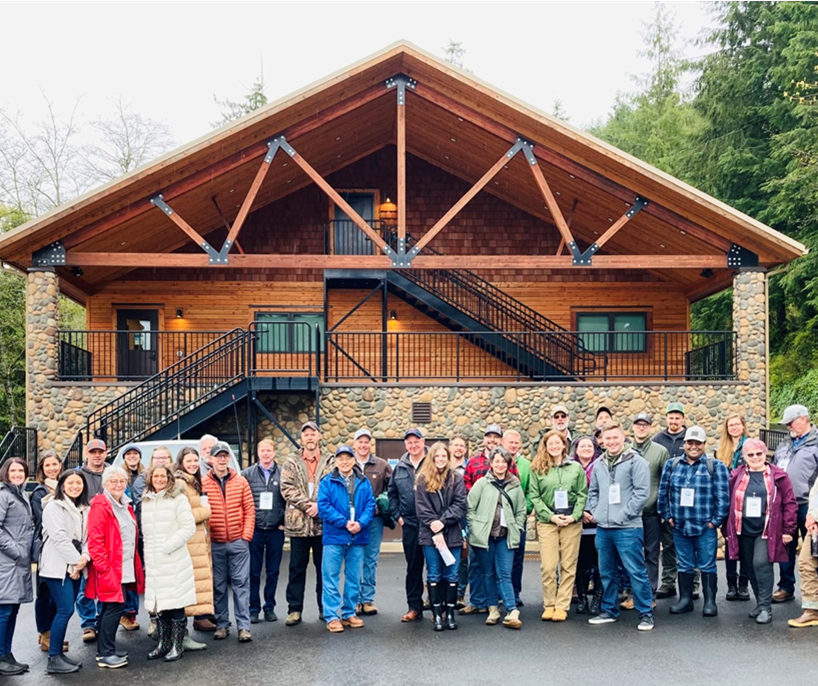 I have written in the past about the increasing problem of traffic safety and collisions between vehicles and wildlife.
Oregon experiences a higher rate of animal-vehicle collisions than any other West Coast state. Nearly 6,000 vehicles in Oregon crashed into wild animals last year. The average insurance cost from such collisions: $4,135.
Last session I sponsored HB 4130 which appropriated funds to Department of Transportation for wildlife corridor projects. Before the session ended, those monies were approved. And now in a separate program, you too can support wildlife and traffic safety with a new Oregon license plate.
The "Watch for Wildlife" license plate will be available for purchase at all DMV locations starting May 4, 2022. Plates can also be ordered when a vehicle is purchased at an Oregon dealership. For more information about Oregon specialty license plates and how to get your own Watch for Wildlife plate please visit www.oregon.gov/odot/dmv.
The plate raises funds for Oregon Wildlife Foundation through an additional $40 donation when DMV issues, renews or replaces the plates. This is in addition to any other fees that normally apply. I understand there will be an online auction for the first 20 plate numbers.
Wildlife move throughout their habitat for food, shelter, and to find mates. In that regard, I suppose they are much like people! The roads and highways crisscrossing Oregon make that a dangerous and sometimes fatal journey. Proceeds from the sale of this license plate are dedicated to projects that provide safe passage to wildlife of all kinds throughout Oregon.
Saturday was bright and sunny at the beach – a perfect day for a beach clean-up and to celebrate Earth Day.
I spent some time in Newport, filling a bag with bits of Styrofoam, plastic, plastic bags, marine rope, paper, and a lost shoe. I also carried a sheet of plywood filled with nails off the sand. Then I joined the Earth Day Celebration at City Hall.
The coming week will again be a busy one! I'm planning on dinner and a town hall with Echo Mountain fire survivors, a meeting of the Oregon Innovation Council and the Oregon Coast Community College Foundation, zoom conversations with the Director of the Department of Revenue and then the Secretary of State's Office of Small Business Assistance to discuss reducing regulations on small business, and a sit down with the Lincoln County School District leadership.
I'll join in and listen to two County Candidate Forums – one with the Lincoln City Chamber and another with Citizens for a Better Lincoln County. And I'll attend several ribbon cuttings, receptions, and a gathering of community leaders in Yachats. I'll finish the week next Sunday at Landscaping with Love who work to help get local fire survivors' yards replanted with everything from grass and bulbs to trees and shrubs.
There is always something interesting or worthy to do in our large and diverse district. Please make the most of it! And with the Primary Election Voter pamphlet in your mailbox and ballots arriving in just a few days, please take a little time to well acquaint yourselves with local candidates and issues. And of course, remember to vote!