#IAmHomewardPet – Peggy Noll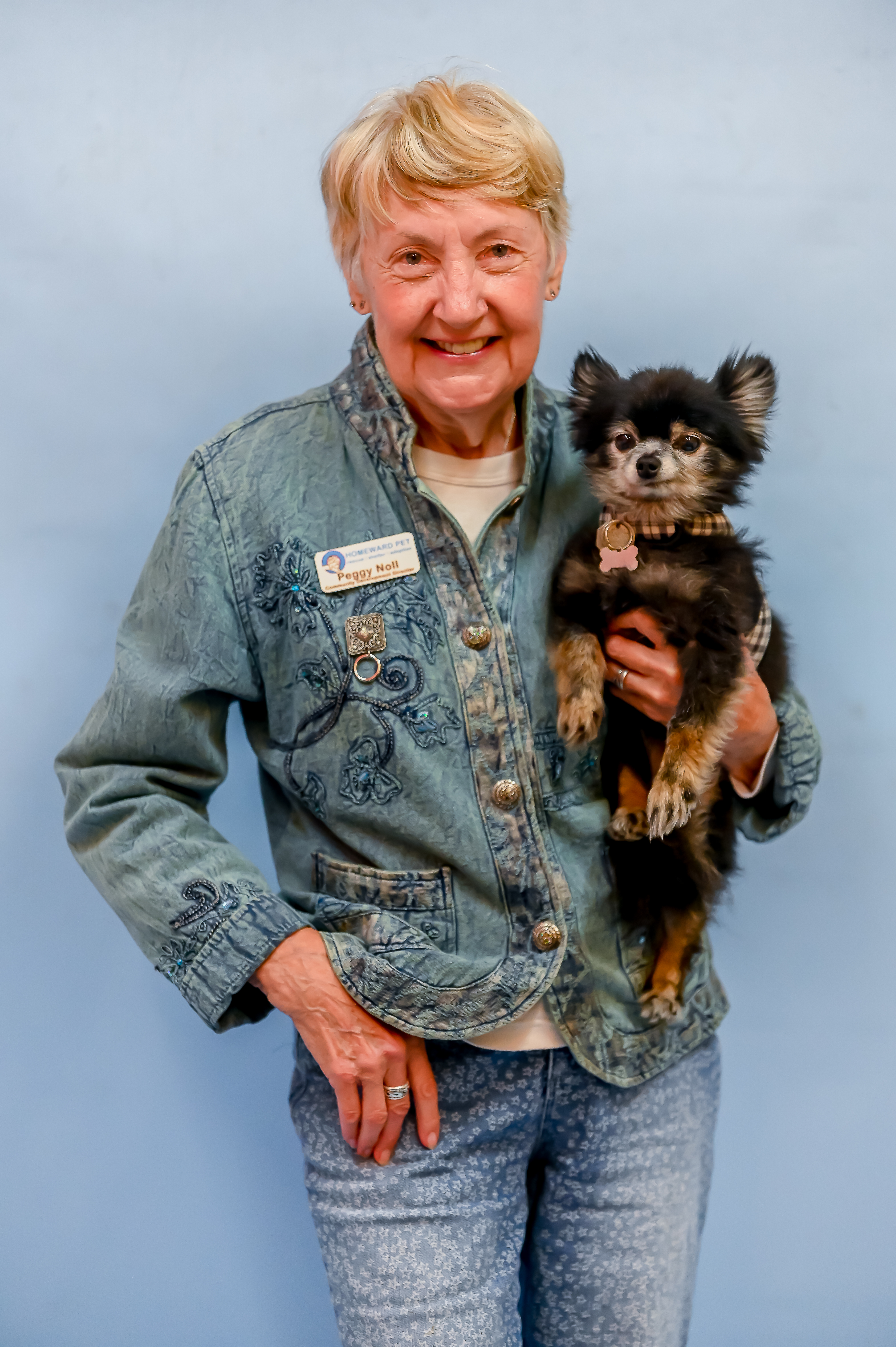 To find someone who embodies the values, the history and the heart of Homeward Pet, you need to look no further than our beloved Peggy Noll.  As of this year, Peggy has been with Homeward Pet for 29 years.
Peggy's professional career started in hospitality for the airlines. She worked with Alaska Airlines for 29 years in sales management. Her job, as a liaison for large corporations, allowed her to indulge her love of travel and to experience exotic locations. Her favorite travel destination was Nepal where she spent time living in a tree house which she traveled to and from on the back of an elephant.  They had hardly any electricity, no hot water, cooked over campfire and ate mostly ramen noodles and tough chicken.  But the experience was once in a lifetime for her.
Peggy has always been an animal lover. She adopted her first dog, Skipper the Brittany Spaniel, at the age of 8. Her adoption history in adulthood has spanned a multitude of cats and dogs.  And the number is increased by the many feral kittens and foster animals that spent time in her home before adoption.
Her first cat, Max, was rescued from the sales offices of Alaska Airlines.  Her most recent cat, Houdini (Hootie) was the only one adopted from Homeward Pet. She describes him as a large cat with a larger personality. Hootie passed away this past Christmas at the old age of sixteen.
Due to her life of travel, she was not able to integrate a dog into her world until her world slowed down.  Her first dog as an adult was a three-legged lab named Brandi who had come from a domestic abuse situation. Brandi was being surrendered to Homeward Pet in 2003.  Peggy fell in love and agreed to foster. Brandi never left Peggy's home. She was the first in a line of Peggy's pups that included Jazz, Whoopi (whose name graces our medical needs fund), Precious, Dottie and Spike.  While many are used to seeing Peggy and her current pup, Dottie, at local events, Precious, a tiny teacup poodle, was adopted from Homeward Pet as well and pre-dated Dottie as the spokesdog for the organization.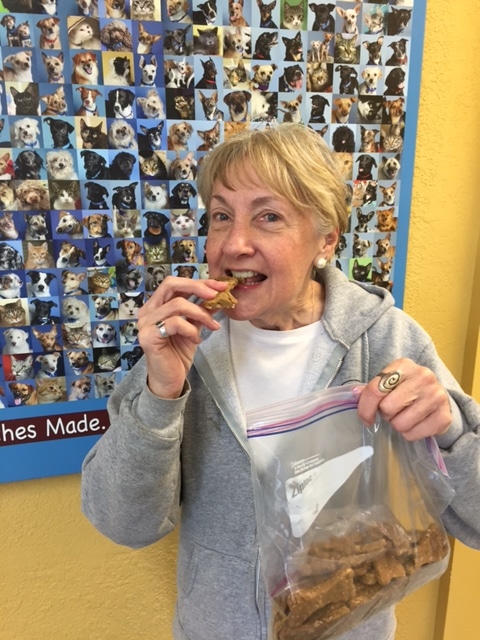 Peggy's volunteer role didn't start with Homeward Pet. Prior to volunteering with Homeward Pet, Peggy spent time volunteering with Heads Up, helping troubled teens in Bellevue; Children's Hospital; and Eastlake Vet Clinic.
Peggy's tenure with Homeward Pet started somewhat inauspiciously.   Her good friend, Ruth, had been talking about this wonderful rescue that she volunteered with and convinced Peggy to come by one Friday night.  Peggy assumed that they would take a quick peek around and then head out to dinner.  She ended up spending the entire evening cleaning kennels, feeding and walking the animals, doing dishes etc.  She never made it to dinner and has been an integral part of Homeward Pet ever since. She has been with us through the name change from Hooterville Pet Safehaus to Homeward Pet Adoption Center and all four of Homeward Pet's "homes" – the original location, Country Village, Clearwater Spas and now our current home.
She has high hopes for our next move, noting that she hopes it will include continued expansion of our clinic and behavioral programs, more meeting space to accommodate community interactions, fear free kenneling, an off-leash park for training and socializing, a volunteer training program for teens, and the ability to host gatherings for our rescue and transport partners.
Shortly after her retirement from Alaska Airlines in 2005, Peggy became an interim Executive Director for Homeward Pet.  She retained that interim role for 1.5 years. Peggy describes her time as the Executive Director as a challenging one.  The organization was housed in the Clearwater Spas building.  We were overstretched and under-resourced.  The building was the biggest space we'd had to date with the largest number of animals housed there, but was poorly laid out with limited parking, regular flooding issues, and poor public visibility.
Despite the challenges, Peggy's contributions in community relations set the stage for the role she continues to play to this day.  Peggy started a communications campaign that included personal outreach, newsletters, press releases, and tv interviews. She's a strong believer in being active in the local Chamber of Commerce and has served on the Boards for our local Chambers.  She enjoys meeting new people and cherishes the long-term friendships she's built.
When asked if there is anything she hasn't done with Homeward Pet that she wishes she had, she regrets not being more hands on with our animals. She enjoyed her volunteer time with Eastlake Vet Clinic and feels she would have enjoyed volunteering in our clinic. She also wishes that she'd been more involved in training and enrichment for our animals. We say, it's never too late.
Will Peggy retire? The answer to this was an emphatic NO. She will continue working as long as her health allows and, even if she had to retire, would probably continue to volunteer, donate and advocate.
Homeward Pet is blessed to have an angel like Peggy on our side.